Moringa Tea
Showing all 3 results
Moringa Delicata Tea 150gr
Moringa Delicata tea, grown in the Netherlands and prepared with the finest selected leaves of Moringa oleifera, exclusively naturally grown and produced without artificial fertilizers or pesticides. The Delicata tea from Moringa's Finest is:
✓
100% Natural and without additives.
✓
Refreshing & soft taste.
✓
Rich in leaf green.
Content:
150 grams Moringa Delicata Tea
not rated
€

9,95
Read more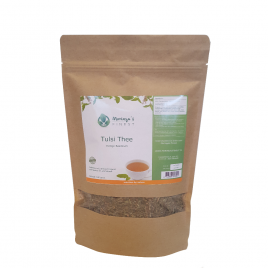 Tulsi Tea 150 grams (resealable bag)
Tulsi tea is wonderfully refreshing and energizing ✓ Natural. ✓ Exciting and spicy taste. ✓ Pure and unprocessed. Contents: 150 grams of Tulsi tea packed in a resealable pouch.
not rated
€

9,95
Read more